On the blue chair in the dining room-allowed
On the Dralon blue chair in the sitting room-never allowed, always a fuss made
On the desk chair ,on brown furry rug (provided)
On the kitchen Windsor chair-allowed after 10pm only
On the sofa -only when cover in place
On the carpet near radiator in sitting room -always allowed when door is open
On the kitchen mat with view through Catflap of Birdfeeder-allowed
For all the 40 nights THEY will never know what I have been doing or where I have been.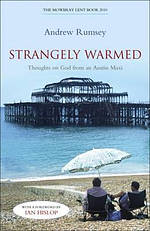 During Lent it seems that I have been expected to read some wholesome literature. SHE has done it for me, and I looked over her shoulder. We enjoyed

Strangely Warmed

.

SHE says it was a breath of fresh air after all the stuffy books she has read in other years.
I have of course been reading the
Filey Parish Blog
every day with THEM. Even HE is getting proficient at blogging now. The one HE did yesterday was all HIS own work except for the uploading of the Photos.(whatever that means).
I of course have been proficient for a long time. I haven't actually had to do a Lent Blog as I am not a a parishioner . Although I am a vicarious parishioner - not a Church Cat, I still have not had a go at Spiritual Stuff since my award winning and much blog rolled
Monasticism and Feline Devotions
. I exaggerate of course. However I realise that Spiritual Stuff will enhance my wellbeing. As this is Holy Week I shall see what my Twitter friends are doing to improve their Spiritual Lives. I will especially take note of Anatolia Princess Natasha or known to me as @RuthiesRagdoll. Her emanuensis Ruth Gledhill always is good value on Spiritual Stuff and this will have had a didactic effect on my Twitter friend.